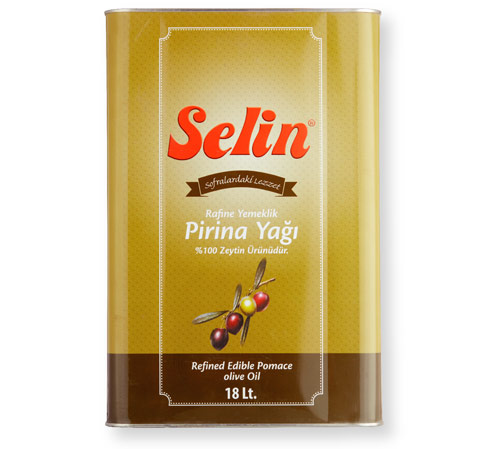 Selin, the perfect flavour in your cuisine!
Pomace oil is extracted from the fruit of the olive tree. Pomace oil is extracted from olive pomace with the use of solvents or other chemical processes. The olive pomace is the by-product of the extraction process of the original olive oil. Olive oil is cold-pressed and pomace oil is hot-pressed. Pomace oil is graded from a blend of refined pomace oil and virgin olive oil, that is fit for human consumption. Refined pomace oil is often used for deep frying and consumption in foods. Refined pomace oil maintains some of the characteristics and nutritional health benefits of olive oil. Needless to mention that virgin olive oil is a superior quality, grade and overall product than pomace oil since it is extracted with cold press technique without chemicals and solvents. Pomace oil is a lesser grade and quality than olive oil due to the way in which it is extracted and the chemicals used in the process.
Packing Type
Refined Olive Pomace Oil
| # | Packing | |
| --- | --- | --- |
| 1 | Glass Bottles | 250ml, 500ml, 750ml, 1000ml |
| 2 | Plastic Bottles | 1000ml, 2000ml |
| 3 | Tin Cans | 5000ml, 10000ml, 18000ml |
| 4 | | Private-Label Branding |
CERTIFICATION ISO 9001: 2015, ISO 22.000: 2005, ISO 14001:2015, OHSAS 18001 and HALAL
Shelf Life:24 months(Store in a cool and dry place and do not expose to direct sunlight.)
Has been produced in accordance with the Turkish Food Codex in regards the Norms that apply to Edible Cooking Oils referred with plant names.