Selin Refined Vegetable Oil
Selin, the perfect flavour in your cuisine!
Selin Refined Vegetable Cooking Oil is a blended refined edible cooking oil obtained from the highest quality oil crops and manufactured with the latest technology. Selin refined edible vegetable cooking oil is the perfect final product with its lightness, taste and characteristics as per international standards. Our production technology helps maintain the maximum amount of natural nutritional qualities to ensure a healthy final product.
Refined Vegetable Cooking Oil is best for cooking or serving hot and cold meals, fried foods, salads, pastry and many others preferred in many countries with a growing demand and consumption trend due it's nutritionally rich and healthy content.
Packing Type
Refined Vegetable Oil
| # | Packing | |
| --- | --- | --- |
| 1 | Tin Cans | 5000ml, 10000ml, 18000ml |
| 2 | | |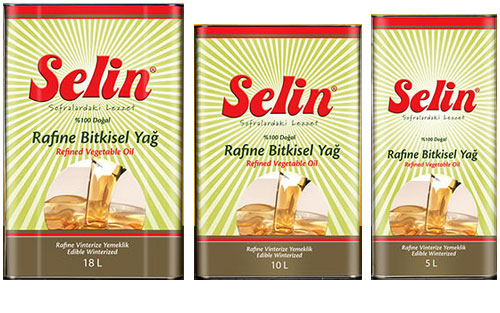 CERTIFICATION ISO 9001: 2015, ISO 22.000: 2005, ISO 14001:2015, OHSAS 18001 and HALAL
Shelf Life:24 months(Store in a cool and dry place and do not expose to direct sunlight.)
Has been produced in accordance with the Turkish Food Codex in regards the Norms that apply to Edible Cooking Oils referred with plant names.