Selin, the perfect flavour in your cuisine!
Extra Virgin Olive Oil does not go under any chemical treatment process. It simply is being obtained from the pressing of finest harvest fresh olives. After the mechanical pressing process the properties of the olive oil is not being modified. This hundred percent natural highly nutritious fruit juice extract is a gift. Having not gone through an artificial manufacturing processes the quality of the final product is mostly determined by the quality of the crop, the oil mill and various factors some of which are explained below in brief. Free oleic fatty acidity ratio is one of the key factors in determining the quality of the olive oil for a non-acidic easy to digest flavour other than taste, smell and further analytic characteristics. Acidity level of Extra Virgin Olive Oil must not exceed 0.8% acidity ratio.
(Virgin olive oil with a good taste that has a free acidity of 2% is similarly used as well whilst the Extra Virgin Olive Oil mostly preferred..)
Olive Oil is a rich content highly valuable and complex food with many virtues. It has a perfect aromatic taste and widely used in many countries especially in Mediterranean cuisine. Many scientific studies have proven its rich nutritional facts and healthy properties.
Transformation of olives into oil, brings out organoleptic and chemical components. Variety of individual characteristics, proper harvesting procedures, timing and milling are some of the key elements that are involved in final product quality. The quality of an Olive Oil is then confirmed with it's low acid content and more specifically, the quality is held in the organoleptic characteristics.
In many parts of the world, Olive Oil is an important cuisine ingredient. Recently, the attention towards quality is increasing rapidly. Consumers are more dedicated to using high quality Olive Oils.
Carotene, tocopherols, phospholipids and unsaturated fatty acids and proteins that protect and assist the human body are amongst the substances olive oil contains. Olive Oil is easy to digest and helps with the digestive process as well. There are several types of Olive Oil in the market whilst the best one in regards the excellence in quality is known the Extra Virgin Olive Oil. Extra Virgin Olive Oil is extracted from olives with the first press process and the oleic acid content does not exceed 0,8%.
Quality of the raw material (olives themselves), is the first key factor in the quality. Only fresh and top quality olives may be considered for Extra Virgin Olive Oil production. Handpicked olives, sprigs and leaves to be separated without having applied any other treatment other than washing and processing in a quality oil mill for first press is essential for best quality.
Olive oil with rich oleic acid is excellent for children growth and an easily digestive source of energy. Olive oil helps preventing the loss of calcium in the bones and the rich content of vegetable unsaturated fats give energy healthy nutrients to our metabolism. Further to healthy features of olive oil, especially the Extra Virgin Olive Oil gives a perfect flavor to our dishes. To better preserve the qualities of the extra Virgin Olive Oil it is best to use it raw as a condiment on salads, soups, meats etc. It may be well used cooked in meals and may be used for fries as well.
Consuming the Raw Extra Virgin Olive Oil within 6-8 months of pressing may best preserve its typical qualities and characteristics. After 8- 12 months of storage, a change with the fragrance, the freshness and the taste will start. After storage, Olive Oil does not get worse, but it can lose some qualities such as vitamin E and other antioxidant contents that are richly available. Storage of olive oil in a dark, well closed glass container at around 14 C degrees may help preserving the qualities of your olive oil for longer.
Virgin Olive Facts
Virgin Olive Oil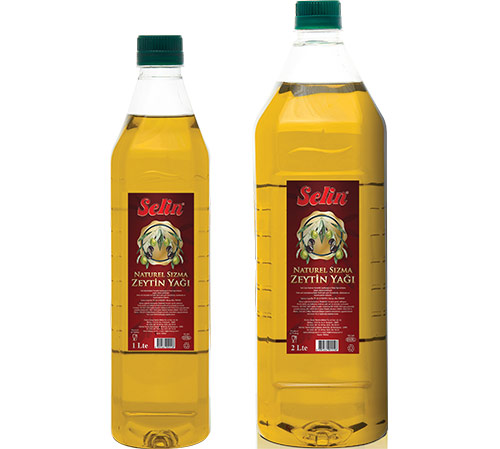 1
Acid Ratio
< 2%
2
Color
Intense Green Color
3
Olive Variety and Characteristics
Aegean District-Turkey Best Quality Olives.
Medium-height hillsides with perfect exposure.
Trees are planted in moderate compact soil.
4
Denomination
SELIN (Or Private Label Manufacturing) Extra Virgin Olive Oil
GUNEY TUKETIM MALLARI TICARET VE SANAYI LTD. STI.
5
Production Techniques
Handpicked best quality Olives, proper selection and immediately carried to the oil press and then cold crushed to better save fruity aroma and the typical spicy taste. This unfiltered Extra Virgin Olive Oil may produce a natural light sediment.
6
Fragrance
Scents of green olives and of fresh artichokes.
7
Taste
A slightly bitter and sharp flavor.
Packing Type
Virgin Olive Oil
| # | Packing | |
| --- | --- | --- |
| 1 | Glass Bottles | 500ml, 1000ml |
| 2 | Plastic Bottles | 500ml, 1000ml, 2000ml |
| 3 | Tin Cans | 5000ml |
| 4 | | Private-Label Branding |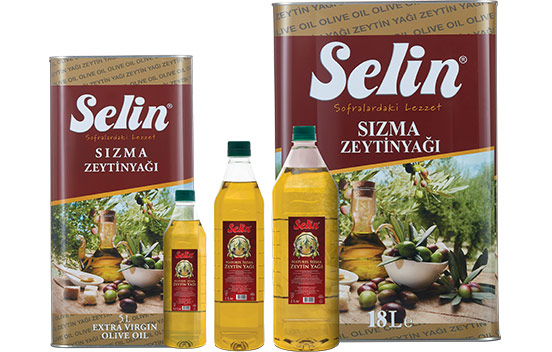 Quality: Our in-house quality control Laboratory analyzes every step of our production with up to date technology equipment in accordance with the standards apply as well the TSE (Turkish Standards Institute) and the Turkish Food Codex norms.
CERTIFICATION ISO 9001: 2015, ISO 22.000: 2005, ISO 14001:2015, OHSAS 18001 and HALAL
Shelf Life:24 months(Store in a cool and dry place and do not expose to direct sunlight.)
Has been produced in accordance with the Turkish Food Codex in regards the Norms that apply to Edible Cooking Oils referred with plant names.